elementevents
bridges the gap between script based programming (VBA/Keyin) and events.
Scripting in Microstation
In Microstation we have two possibilities to call individual processes and routines.
Keyin-scripts: Commands or commands script that will be called via keyin.
VBA macros: VBA routines that will be called via keyins or tool boxes.
These scripts or macros will have to be called explicitly. The user needs to keyin a command, hit a button or choose a menu item or tool.
Using elementevents you can define your keyins or macros as events for Microstation elements. You can integrate your processes directly under the hood of Microstation functions. The element itself calls the functions whenever it is deleted or changed. No need to program extra functions for fence delete, selection set delete and so on. The element that called the macro or keyin is available via a global variable in your VBA project.
That allows you to model your business logic with VBA and integrate it seamlessly in your dgn files.
How to define events
The events will be defined by a simple tag set and attached to the element. That makes them easy to edit and to maintain. There comes a special function with elementevents that locks all tags at once so they are secured from accidential changes.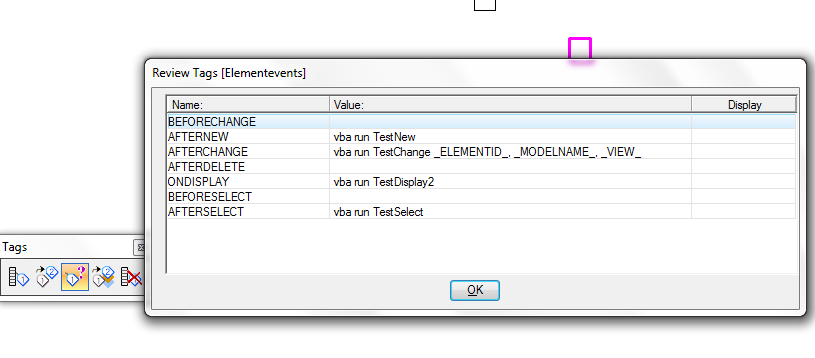 But you also can attach the events as XML fragments. elementevents comes with an interface to maintain them.
elementevents allows you to 'listen' to the following events.:
before new (e.g. copy, cell create, etc)
after new
before change ( change color, move, etc)
after change
before delete
on display
on attaching a reference
on opening the elements model
Blocking of operations
With elementevents you are able to block Microstation operations like changing, adding or deleting. Just let your VBA function return a certain value ("1" or "true" for blocking) or set the configuration variable "elementevents_block". This lets you effectively control and alter the behaviour of Microstation.
Data promotion
There are many additional informations elementevents delivers to you.
the new element
the old element
event view
business data and business logic
Using elementevents allows you to model your business logic with VBA and integrate it seamlessly in your dgn files. No separate GUI or user tools are needed.